Newsletter
Get the latest news and show info via email! Sign up for the free newsletter:
Calendar
«
December 2017
»
S
M
T
W
T
F
S
26
27
28
29
30
1
2
3
4
5
6
7
8
9
10
11
12
13
14
15
16
17
18
19
20
21
22
23
24
25
26
27
28
29
30
31
1
2
3
4
5
6
SeaTac Terminal
10am–2pm

Who's flying??
As I have done for the last 15 years, I will be bringing some holiday cheer to the traveling public at Seatac Airport - rated best airport in the US! Thanks to the music, of course. ;-)

Seattle Municipal Tower
700 Fifth Avenue
Seattle
11:30am–1:30pm

Got friends who work downtown? Maybe you work downtown? Come spend your lunch hour with me in the Third Floor Lobby of the Seattle Municipal Tower!
Educators
I have always been an advocate of community outreach performances—from college to kindergarten, it's always fun to go back to school! If you'd like to have me visit your school for assembly performances, and classroom workshops, get in touch with me or my friends at Academic Entertainment!
Deep Well Sessions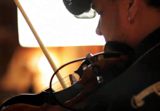 Watch "Minor Swing,"
from The Deep Well Sessions.
Links
Check out some artists I've played with, DJs who dig my tunes, hip venues, and things I think are cool.
Feed Your Need
Use an RSS reader? The Geoffrey Castle RSS feed always has the latest list of upcoming shows!
On Facebook?
Follow me on Facebook and check out exclusive pictures, comments from people who come to the shows, and more!
Shannon Castle Art
My Music
Digital Downloads—Most of my music is available from the Download Store via either PayPal or credit card. You can buy tracks in high-quality MP3 FLAC, ALAC (Apple Lossless) or Ogg Vorbis format. (Don't worry if you don't know what those are: MP3 works on almost any computer, music player, tablet, smartphone, or other digital device!) You get music instantly—and there's no copy protection to get in your way.
Physical CDs—Wanna go old school? If physical CDs are available, you can order then via PayPal—even with a debit or credit card. Orders go through my company Castle Art & Music.
Albums