Newsletter
Get the latest news and show info via email! Sign up for the free newsletter:
Calendar
«
June 2017
»
S
M
T
W
T
F
S
28
29
30
31
1
2
3
4
5
6
7
8
9
10
11
12
13
14
15
16
17
18
19
20
21
22
23
24
25
26
27
28
29
30
1
2
3
4
5
6
7
8
Bake's Place Bellevue
155 108th Ave NE, Suite 110
Bellevue, WA 98004
(425) 454-2776
8–11pm
Geoffrey Castle and Celtic Night
featuring Dan Connolly

Best Place to Listen to Music on the Eastside - 405 Magazine
Best First Date - Best of the Northwest KING 5

We love this place! This time, we're not doing the "two seatings" thing: you're welcome to party with us all night! Bring friends, and make reservations NOW because this will SELL OUT!

Details soon!
Feed Your Need
Use an RSS reader? The Geoffrey Castle RSS feed always has the latest list of upcoming shows!
Shannon Castle Art
Mist on The Mountain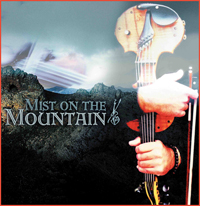 Mist on The Mountain features eleven tracks that strip Geoffrey Castle to his bare essentials: a man and his violin. Pulling influences from jazz, blues, world music traditions plus the palettes of avant-garde composers and rock guitarists, Geoffrey Castle does it all—and performs it all. No guest stars, no tricks, nothing up his sleeves.
On his solo album, the Seattle violinist offers and eleven-track collection of stunning originals showcasing his pioneering talent on six-string electric violin. Tapping ancient Celtic melodies and modern pop, rock, and jazz, Castle has creased a pure, uncluttered masterpiece. Among the gems is the ethereal "Underhill's Waltz," and a remarkable version of Miles Davis' "All Blues."
—Gene Stout, Seattle P-I
Tracks — Click to listen or purchase for download from Bandcamp!