Newsletter
Get the latest news and show info via email! Sign up for the free newsletter:
Calendar
«
September 2017
»
S
M
T
W
T
F
S
27
28
29
30
31
1
2
3
4
5
6
7
8
9
10
11
12
13
14
15
16
17
18
19
20
21
22
23
24
25
26
27
28
29
30
1
2
3
4
5
6
7
Bake's Place Bellevue
155 108th Ave NE, Suite 110
Bellevue, WA 98004
(425) 454-2776
8–11pm
Celtic Night Band featuring Dan Connolly

Make reservations now! There is no more elegant, and delicious place to listen to a concert on the Eastside (or any side) Underground parking, great sound, top shelf whiskey, it's awesome! Having a birthday? Bring the party! We'll help you create a YouTube-worthy moment to remember…

Hard Rock Cafe Seattle
116 Pike Street
Seattle, WA 98101
(206)204-2233
Benefit for Lois Hashikawa Levin

Details about this show are still coming in, but right now it's looking like the band "WHITE" will play a set (with Alan White, of course), I'll play solo, or with my band not sure yet, and I'll sit in with members of Apple Jam, and Alan White and we'll recreate his first gig with John Lennon and Eric Clapton: LIVE PEACE 1971

Funds raised go to help our freelance photography friend Lois, who is battling cancer and winning! She needs our help.
On Facebook?
Follow me on Facebook and check out exclusive pictures, comments from people who come to the shows, and more!
Shannon Castle Art
Mist on The Mountain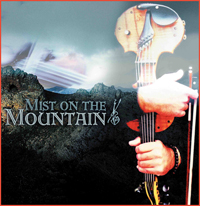 Mist on The Mountain features eleven tracks that strip Geoffrey Castle to his bare essentials: a man and his violin. Pulling influences from jazz, blues, world music traditions plus the palettes of avant-garde composers and rock guitarists, Geoffrey Castle does it all—and performs it all. No guest stars, no tricks, nothing up his sleeves.
On his solo album, the Seattle violinist offers and eleven-track collection of stunning originals showcasing his pioneering talent on six-string electric violin. Tapping ancient Celtic melodies and modern pop, rock, and jazz, Castle has creased a pure, uncluttered masterpiece. Among the gems is the ethereal "Underhill's Waltz," and a remarkable version of Miles Davis' "All Blues."
—Gene Stout, Seattle P-I
Tracks — Click to listen or purchase for download from Bandcamp!