Newsletter
Get the latest news and show info via email! Sign up for the free newsletter:
Calendar
«
September 2017
»
S
M
T
W
T
F
S
27
28
29
30
31
1
2
3
4
5
6
7
8
9
10
11
12
13
14
15
16
17
18
19
20
21
22
23
24
25
26
27
28
29
30
1
2
3
4
5
6
7
Bake's Place Bellevue
155 108th Ave NE, Suite 110
Bellevue, WA 98004
(425) 454-2776
8–11pm
Celtic Night Band featuring Dan Connolly

Make reservations now! There is no more elegant, and delicious place to listen to a concert on the Eastside (or any side) Underground parking, great sound, top shelf whiskey, it's awesome! Having a birthday? Bring the party! We'll help you create a YouTube-worthy moment to remember…

Hard Rock Cafe Seattle
116 Pike Street
Seattle, WA 98101
(206)204-2233
Benefit for Lois Hashikawa Levin

Details about this show are still coming in, but right now it's looking like the band "WHITE" will play a set (with Alan White, of course), I'll play solo, or with my band not sure yet, and I'll sit in with members of Apple Jam, and Alan White and we'll recreate his first gig with John Lennon and Eric Clapton: LIVE PEACE 1971

Funds raised go to help our freelance photography friend Lois, who is battling cancer and winning! She needs our help.
On Facebook?
Follow me on Facebook and check out exclusive pictures, comments from people who come to the shows, and more!
Educators
I have always been an advocate of community outreach performances—from college to kindergarten, it's always fun to go back to school! If you'd like to have me visit your school for assembly performances, and classroom workshops, get in touch with me or my friends at Academic Entertainment!
Underhill's Angel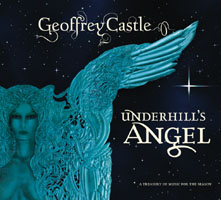 A Treasury of Songs For The Season
There was a time before the commercialization of Christmas. A time lit with candles and firelight, when tapestries kept the cold from coming through the stone, and folk would gather during the longest nights of the year to sing songs of hope and light. This recording was made to recapture that time and bring forward the ancient and genuine spirit of Christmas into this modern time.
I wanted to make a CD with songs that predated the commercialization of Christmas. Melodies that are 200, 300, 400, 800 years old. A CD with deep spiritual roots, and a sound that feels right now, full of inspiration and improvisation. Eric Robert and I went into the studio with Grammy award-winning bassist Garey Shelton and these ancient melodies—some of which will be familiar, and some that I am sure will become new favorites—and we followed our own path. The result really is magical.
—Geoffrey Castle
"The album is entirely instrumental, creating an ethereal mood that is soothing and reflective. It's the perfect CD for the wee hours of Christmas morning, long after the fire has faded to embers."
Tracks — Click to listen or purchase for download from Bandcamp!
Personnel
Geoffrey Castle - acoustic and electric violins
Eric Robert - piano and keyboards
Garey Shelton - fretless electric bass
Produced by Geoffrey Castle
Arrangements by Geoffrey Castle and Eric Robert
Recorded at Garey Shelton Productions, Seattle