Newsletter
Get the latest news and show info via email! Sign up for the free newsletter:
Calendar
«
February 2018
»
S
M
T
W
T
F
S
28
29
30
31
1
2
3
4
5
6
7
8
9
10
11
12
13
14
15
16
17
18
19
20
21
22
23
24
25
26
27
28
1
2
3
4
5
6
7
8
9
10
Tandem Wine Bar
15029 Woodinville-Redmond Road
Woodinville, WA 98072

Solo performance!


Scottsdale, Arizona

Want me to come to your school? It's easy! Just contact my friends at www.AcademicEntertainment.com!
On Facebook?
Follow me on Facebook and check out exclusive pictures, comments from people who come to the shows, and more!
Feed Your Need
Use an RSS reader? The Geoffrey Castle RSS feed always has the latest list of upcoming shows!
Underhill's Angel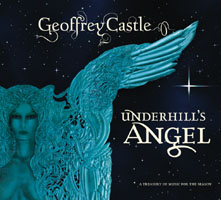 A Treasury of Songs For The Season
There was a time before the commercialization of Christmas. A time lit with candles and firelight, when tapestries kept the cold from coming through the stone, and folk would gather during the longest nights of the year to sing songs of hope and light. This recording was made to recapture that time and bring forward the ancient and genuine spirit of Christmas into this modern time.
I wanted to make a CD with songs that predated the commercialization of Christmas. Melodies that are 200, 300, 400, 800 years old. A CD with deep spiritual roots, and a sound that feels right now, full of inspiration and improvisation. Eric Robert and I went into the studio with Grammy award-winning bassist Garey Shelton and these ancient melodies—some of which will be familiar, and some that I am sure will become new favorites—and we followed our own path. The result really is magical.
—Geoffrey Castle
"The album is entirely instrumental, creating an ethereal mood that is soothing and reflective. It's the perfect CD for the wee hours of Christmas morning, long after the fire has faded to embers."
Tracks — Click to listen or purchase for download from Bandcamp!
Personnel
Geoffrey Castle - acoustic and electric violins
Eric Robert - piano and keyboards
Garey Shelton - fretless electric bass
Produced by Geoffrey Castle
Arrangements by Geoffrey Castle and Eric Robert
Recorded at Garey Shelton Productions, Seattle